Old World Map Art

---
A decorating technique that has stood the test of time is old world map art. The artwork can vary in price as much as it can vary in the subject of the map. With beautiful illustrations and gold inlays, maps of the old world make a stunning addition to any home's decor.
Browse Our Selection of Old World Map Art
Professionally Finished Pieces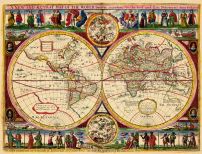 Some old world maps are perfectly suited for hanging on your wall exactly as they were created. The map makers that were commissioned to create the maps in ancient times were artists. Not only were they able to take descriptions and measurements to create maps that were accurate, they often used their artistic ability to embellish these maps to look like works of art.
Although original maps are available, they then to cost as much as other art pieces from around the same time period. Most people won't be able to afford to add these to their collections. Fortunately, professional reproductions are available that are as beautiful as the originals. When professionally frames and mounted, it is difficult to tell that it is a reproduction. Another benefit to having the reproduction is that you can customize the size to perfectly fit your wall.
Other Map Art
Old world maps are used to decorate a variety of home decor. Tapestries are a popular item that has been utilized to display map art. Many are designed using old atlas pages as inspiration. From table tops to coasters, many pieces of decor are covered with a map motif. Vintage or old world inspired globes are also a popular item used for decorating. Adding an item with an old world map theme to a room gives that room a refined feeling. A map collection gives the impression that the owner is well traveled and sophisticated.
Many art mediums have adapted the old world map theme. Sculptures are created using maps as inspiration. Beads that are made from old maps are made into popular jewelry. It seems that old world map art has been adapted into all genera of art.
Embellishing maps has also become a very popular form of art. By creating foil inlays on maps of the old world, you can create a different level of depth to a map. Most embellishments improve the overall appearance of a map.
Not only do maps make beautiful artwork, it is very interesting to see how man's perception of the earth has evolved over the centuries. From assuming that the world was flat and that their civilization marked the center of the earth to the global picture we now have of the earth, map art shows us how mankind has come to understand the makeup of our planet.
With the technology that is available now, allowing us to take a picture of the earth from space, the art of map making has become obsolete. Although these views of the earth are breathtaking, they lack the creative style that the old world map makers provided. This change in world view only makes old world map art much more valuable.